Discover
~ Eat Well, Travel Often ~
What do you do when you visit a new city that you've never been before?  Discover the hidden places and local favourites that you can't miss while you visit each city!  I've got some favorites of mine but I always try to find the opportunity to explore new food adventures!  Most of my favourite places are actually recommended to me by the locals so I would love to hear where your top food destination is also!
Australia  ∞  Sydney  ♦   Brisbane   ♦ Melbourne
---
∞ Restaurants ∞
Australia  ∞   Sydney  ♦  Melbourne  ♦ Brisbane 
Places to Dine | Sydney
Discover Sydney and its culinary adventures through my travel diary of the places to eat, drink and socialise in Sydney.  Also keep up-to-date with events and things to do in Sydney.
~ Ripples Chowder Bay  ~
Mosman ♦ Milson's Point
On the edge of Mosman and overlooking the Pacific Ocean, Ripples Chowder Bay is a stunning location and ideal for those special occasions.  The best time to enjoy the amazing sunset will definitely be Summer.
~ Hurricanes Bar and Grill  ~
Darling Harbour  ♦  Brighton-Le-Sands  ♦  Ryde   ♦  Bondi Beach
Darling Harbour ~ Located in the inner-city in Darling Harbour and attracts many tourists and generally the city demographic. Overlooking the water and wheel of darling harbour, it is a great destination for the occasions to indulge and best shared in larger groups. Although portions of the sides and salads are small, the main feature of the menu is the ribs.
Brighton Le-Sands ~ Overlooking the beach in an immensely spacious restaurant, this is a great beachy location to socialise with a view to enjoy the food.
~ Watsons Bay Hotel ~
Another stunning beachfront location popular for events and social gatherings.  Make sure you come here for the crimson red sunset
Address: 1 Military Rd, Watsons Bay NSW 2030
~ Newport Arms  ~
A popular and treasured destination of the Northern Beaches in Sydney, The Newport Arms is a great sunday session destination in a hamptons-style outdoor atmosphere.  With a variety of pavilion areas offering a great selection of foods including an wood-fired oven.
Address: 2 Kalinya St, Newport NSW 2106 | Hours: 9.30am-12am
~ Coogee Pavillion ~
A popular destination right on Coogee Beach is the Pavillion, very much a favourite social scene for Sunday sessions or even just a dining occasion day or night.  Especially if you're new to Sydney I found that this is a great way to meet people especially for the Friday night drinks.
Address: 169 Dolphin St, Coogee NSW 2034
ITALIAN CUISINE
~ Fratelli Fresh ~
Walsh Bay ♦  Bridge Street Sydney CBD ♦  Westfield Sydney ♦  Alexandria ♦  Darling Harbour  ♦  Crows Nest ♦  Entertainment Quarter ♦  Macquarie St  
Offering a variety Italian flavours and great promotions with set menus.  If you are a regular become a 'Fratelli Friend' and pick up your keyring for $6 wine and beers as well as special promotions across the Fratelli franchise.
Check Dimmi's for promotions with this restaurant.
MIXED CUISINE
~ Dooley's Lidcombe Catholic Club ~
Address: 17 Church St, Lidcombe NSW 2141 | Hours: 10am-4am
Something for everyone when you dine at Lloyd's Bistro, featuring the local bar, live music, dining with friends and family and the gaming area with member discounts.
~ El Jannah's ~
Address: 4/6 South St, Granville NSW 2142 | Menu
Arguably the best charcoal chicken restaurants in Sydney with the garlic sauce alone will have you coming back for more!  I highly recommend the fatoush with any order.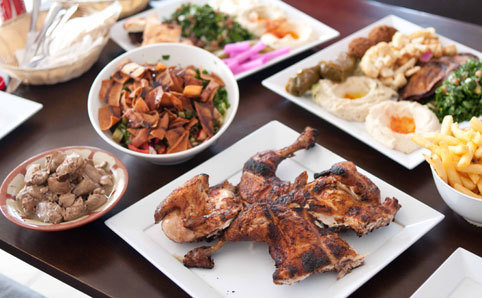 ASIAN CUISINE
~ Hotpot City  Bankstown ~
Address: Little Saigon Ground Floor Shop 22-25, 462 Chapel Road, Bankstown NSW 2200
One of the biggest hotpot restaurants with a large variety of ingredients and DIY sauces to choose from in an  all-you-can-eat @hotpotcitybankstown #HotPotCity.  Great social occasion if you want some soju with friends and family.  I know I've recommended this place to many people for its great value.  You can dine here for lunch or dinner and expect great variety! Service is always friendly and creating your own flavours makes the experience that much more fun.
~ Eat Fuh Marrickville ~
Address: 274 Illawarra Rd, Marrickville NSW 2204 | Hours: 11am-10pm
A rustic interior with a variety of Vietnamese dishes.  Great little place to get your Vietnamese fix in the heart of Marrickville.  Grab your bowl of Pho all year round and especially in winter this is a great choice to keep you warm.
~ Thai Riffic on Street ~
Address: 2184B/159-175 Church St, Parramatta NSW 2150 | Hours: 11am-9.45pm
Great Thai flavours with friendly staff. Menu
~ Chat Thai ~
Thai Town Sydney  ♦ Westfield Sydney ♦ Circular Quay ♦ The Galeries ♦ Manly ♦ Randwick
Thai | Menu
The original Chat Thai located in Thai Town Sydney and open until 2am every night.  Experience the Thai street food in a buzzing open kitchen.  A great find for a late-night eat.  This restaurant has certainly become popular with various locations across the inner Sydney CBD location but make sure you find time to visit the first and original store in Haymarket.  I visited this location at midnight one night and could feel the authenticity of this restaurant from the food and even the people, and have since been thinking about Chat-Thai all the time!  Another fun-fact a visit to Chat-Thai is actually on the list of top things to do in Sydney!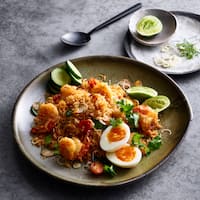 ~ Thai Pothong ~
Newtown  ♦ Marrickville 
Social atmosphere great for large groups and occasions.  Also on display are Thai ornaments available for purchase.  Although this restaurant seemingly reminded me of the Thai tourist restaurants, when the food came I can safely say the dishes were better than expected with amazing and great flavours and friendly staff.
~ Sake Jr ~
Build your own poke bowls!
~ Haru Soju Fusion Lounge  ~
Korean | BBQ |  Late-night
Address: 262 Castlereagh St, Sydney NSW 2000 | Hours: 5pm-4am
~ B.B.Q King Lidcombe ~
Within an Asian Hub of other Korean restaurants, we stumbled upon this casual BBQ restaurant  for a late-night feed.  Classic dishes got us coming back for more with the seafood pancake, spicy pork hotplate and the beef hotpot.
Address: 76-78 Liverpool St, Sydney NSW 2000| Hours: 12pm-12am
~ An Restaurant Bankstown ~
Address: 27 Greenfield Parade, Bankstown NSW 2200 | Hours: 7am-9pm
When I asked around where the best Vietnamese place is the Sydney locals recommended this place, but maybe I got a major hype about it or maybe because it only offered Pho which was pretty expensive – but the serving was large!
~ Umi Sushi + Udon Darling Quarter ~
Japanese | Sushi & Sashimi | Ramen
Address: Darling Quarter, TR 10/1-25 Harbour St, Sydney | Menu
With over 100 sushi dishes to try on the sushi train as well as udon noodles and a la carte in a Kyoto-style restaurant.  An exciting combination of flavours is the Lychee Salmon Californian Roll and the Raindrop Cake with Matcha and Tapoica.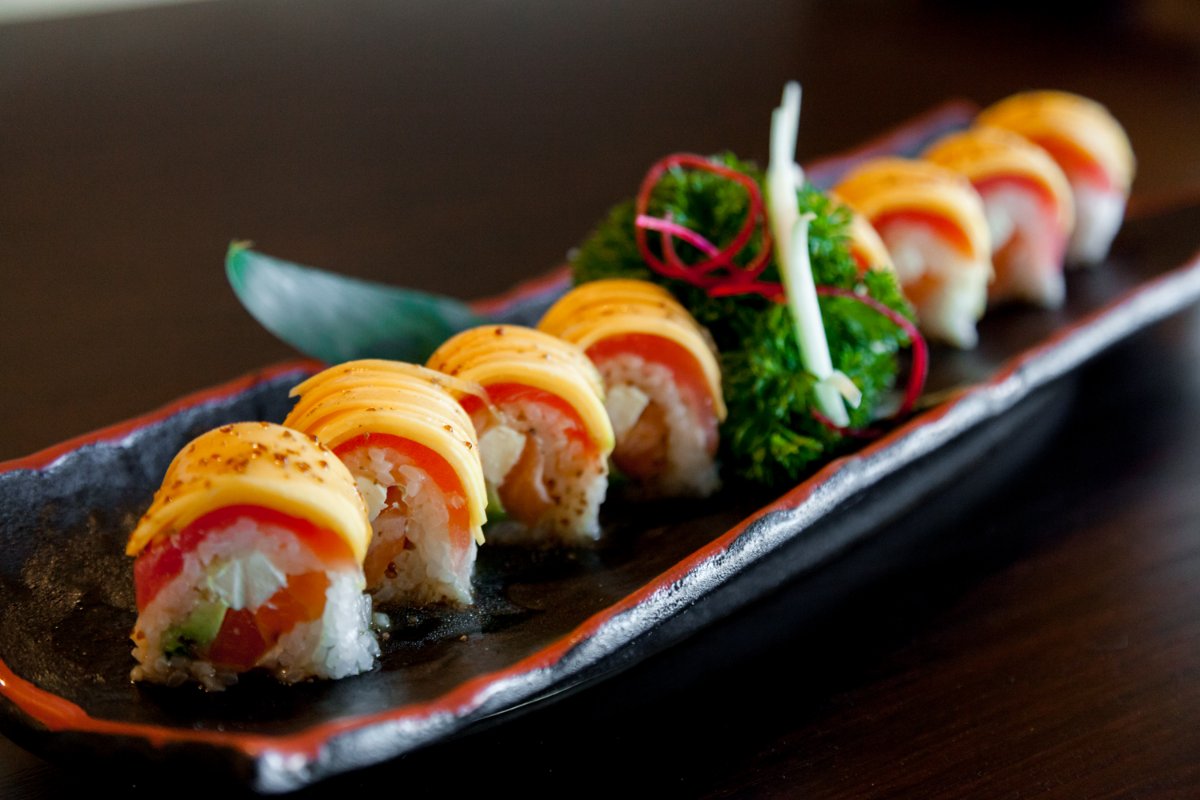 ~ Tara Sushi Bar Surry Hills ~
Address: 666 Crown St, Surry Hills NSW 2010 | Hours: 11.30am-10pm
---
∞ Nightlife ∞
Australia  ∞   Sydney  ♦ Brisbane 
Places to Socialise | Sydney
Marble Bar  ~  Sydney CBD  Hilton Hotel  ~
Cocktail Bar | Live Entertainment | Sydney Nightlife | Drinks Menu
Address: Level B1/488 George St, Sydney NSW 2000 | Hours: 3.30pm-12am | Fri-Sat 2am
One of Sydney's best hidden gems beneath the Hilton Hotel in a Victorian-style marble and mahogany interior. Hosting some of the best cocktails and talented bartenders.  During the week the bar attracts many business workers for after work drinks with Friday night bringing a heavier crowd for the RNB night and live bands from Soul Empire to Brown Sugar.  Get in early as there is usually a line by 10pm!
~ Assembly Bar  & Restaurant Sydney CBD ~
Address: 488 Kent St, Sydney NSW 2000 | Hours: 12pm-12am |  Drinks Menu
Featuring some of the most exciting cocktails, especially known for their Smoking Skull Cocktails to share in a variety of flavours and fiery Zombie signature cocktail with great beats in the mezzanine loft bar – a great place to begin any bar hop! One of my favourite hidden bars of Sydney!
~ Mrs Sippy Double Bay ~
Address: 37 Bay St, Double Bay NSW 2028
From the owner of Mrs Sippy Bali, this breezy chill-out LA vibe can be found in this small bar in Double Bay social scene. The interior has an open air, summer vibe with colourful graffiti and DJ sessions.
~ The Clock Hotel Surry Hills ~
Address: 470 Crown St, Surry Hills NSW 2010 | Hours: 12pm-12am
Retro-chic decor with modern Australian food and pizza.
~ Marquee Sydney ~
An exciting venue in Sydney that hosts the biggest celebrities and features different DJ's and artists every week.  The home to OPM and more!
Address: Star Casino Sydney, Pyrmont
Find discounts tickets to marquee events here!
Marquee Sydney Discount Tickets | Marquee Sydney
~ Rock Lily Star Casino ~
Nightclub | Venue
Address: Star Casino Sydney, Pyrmont
A popular nightclub within the casino.
~ Lantern by Wagaya ~
Address: 

591 George St, Sydney NSW 2000 | 

Hours: 12pm-2am | Sun 12pm-12am
A modern Japanese restaurant with a dining area and private karaoke rooms.  Incorporating a touch-screen menu for self ordering food as well as drinks including jelly shots – a great social destination for the karaoke lovers!
~ The Argyle The Rocks Sydney ~ 
Address: 18 Argyle St, The Rocks NSW 2000 | Hours: 11am-2.45am
A modern Japanese restaurant with a dining area and private karaoke rooms.  Incorporating a touch-screen menu for self ordering food as well as drinks including jelly shots – a great social destination for the karaoke lovers!
---
∞ Recreation ∞
Places to Explore | Sydney
Sydney is a city of opportunities.  Every weekend there's the opportunity to do something different, an event or festival and even a simple new restaurant to try.  But why is everyone in Sydney either too busy working or not busy appreciating it enough!  I realised early on the difference between the states and it comes down to the lifestyle.
Recreation and Leisure
~ Olympic Pool North Sydney~
Find yourself between the Sydney Harbour Bridge and Luna Park Sydney for one of the picturesque leisure spaces during Summer in Sydney at the North Sydney Olympic Pool!  Enjoy the sun under with a captivating view including that of the city and water.  While you're here explore the restaurants including Ripples Chowder Bay Milson's Point.
~ Luna Park| North Sydney~
Explore the theme park at Luna Park and keep up with the Rooftop Cinema that screen throughout the year.  Make the most of your day while on the North side of the Sydney Harbour Bridge!
~ Taronga Zoo| Mosman~
Easily accessible from the city via the ferry where you can experience the zoo with a Sydney City backdrop
~ Bradley's Head| Mosman~
~ The Spit to Manly Walk~
~ Milk Beach Vaucluse ~
---
Gardens & Greenspace
~ Royal Botanic Gardens and Domain ~
The Royal Botanic Gardens located in the heart of the major Sydney CBD on Mrs Macquarie's Chair offers a great view of the Sydney Opera House.  A great escape amidst the hustle and bustle of the city and popular lookout for firework occassions.
~ Australian Botanic Gardens Mount Annan~
The Australian Botanic Gardens in Mount Annan is a great place for a day drive
~ Blue Mountains Botanic Gardens Mount Tomah~
~ Auburn Botanic Gardens~
Featuring a Japanese Garden, the Auburn Botanic Gardens is popular during Cherry Blossom season in late-winter to early spring.  These delicate blossoms can be seen for a short time when they bloom just before Spring and especially during the annual Hanabi Cherry Blossom Festival.
~ Wendy's Secret Garden Lavender Bay~
~ Paddington Reservoir Gardens~
~ Katoomba Blue Mountains ~
Explore the Three Sisters, Lincoln's Rock and the many hikes to do only 2 hours from Sydney.
~ Sparadise Japanese Bathhouse Blue Mountains ~
Yes there's actually hot springs in Sydney!  On the other side of the Blue Mountains you can find this relaxing getaway amongst the hot springs. Take time out to detox and enjoy the scenic location and Japanese garden as you explore the different areas of herbal steam baths and even dip yourself into the cave hot springs.
~ Terrigal Central Coast ~
~ Kiama South Coast ~
When you fancy a drive take a scenic drive down the south coast of Sydney. Compared to driving up north it offers much more natural landscape.  3 hours south will take you to Kiama where you'll find the Kiama Blowhole.  I was lucky to take a trip down and take the leap of faith, with the encouragement of the boys (!) by jumping off the cliffs into the ocean.  I had done something similar in Chiang Mai Canyon but definitely not flowing out into the ocean.  A group of guys happen to be there when we arrived and they were able to assure us that it was safe knowing what they were doing.  Definitely an experience I don't regret and glad that I was able to experience it!
~ Jervis Bay South Coast ~ 
Well known for the many coastal beaches, Jervis Bay offers white sand beaches away from the hustle and bustle of the city.  For a relaxing spot on the beach head to Hyams Beach and find a great spot to enjoy the stunning white sand and blue water.
~ Illawara Fly Treetop ~
More of a tourist attraction, after experiencing some high adrenaline and natural activities that didn't have a price tag this was one of the more pedestrian activities I've done but none the less something to experience and see.
---
Places to Camp | Sydney
~ Coolendell Campground ~
~ Mystery Bay ~
Mystery Bay is a small seaside town in New South Wales, Australia. It edges coastal Eurobodalla National Park, home to kangaroos. The park's Bingi Dreaming Track traces an ancient route of the Yuin Aboriginal people. Mystery Bay Lookout offers views of the Pacific Ocean and migrating whales. Nearby 1080 Beach has strong surf. Montague Island Nature Reserve, with its 19th-century lighthouse, shelters little penguins.
Getting There: 4.5 hour drive south towards Eden
~ Batesman Bay ~
At the sparkling entrance of the beautiful Clyde River is Batemans Bay, a charming seaside town surrounded by natural beauty.  Batesman Bay Red Gum campground is a beautiful riverside camping area, just a short drive from Batemans Bay
Phone: 1300 662 808
Price: Free | North Head $7 vehicle access
Getting there: 3.5 hour drive south of Sydney
~ Honeymoon Bay ~
Honeymoon Bay is set in a picturesque location in Jervis Bay. It is approxi mately 10 kilometres from the edge of Currarong along the Point Perpendicular Lighthouse Road. Honeymoon Bay is a must to spend a family day in the shade by the beach or maybe you'd prefer to do a little fishing instead.
Location: Corner Lighthouse Road and Currarong Road
Currarong NSW 2540
Camping Locations: Depot Beach | Honeymoon Bay
Price: Unpowered site nightly rate: $24 per night (2 pax) | Powered site nightly rate: $34 per night (2 pax)
~ Lake St Clair  ~
Lake St Clair is nestled among the undulating hills at the foot of Mount Royal Range, approximately 30 minutes north of Singleton. The lake provides a premium outdoor leisure facility. Swimming, sailing, water skiing, camping and fishing are only a few of the popular activities enjoyed on the lake.
Price: Schedule | Getting There: 2.5 hour drive north towards Newcastle
---
∞ Recreation ∞
Places to Socialise | Brisbane
~ Fridays Riverside ~
Nightlife | Bar and Nightclub
If you're looking for a sophisticated night out with a great view along the river in the city then Eagle Street Pier is your destination! Located in the heart of the city this is one of the reasons Brisbane is well known and loved for being a walking city, to be able to enjoy the city and not be overwhelmed with the hustle and bustle of traffic and commuters.  This is what makes Brisbane well known for the relaxed vibe compared to other major cities of Sydney and Melbourne.
~ Riverbar and Kitchen ~
Social waterfront restaurant by the pier in a breezy outdoor location.
~ Blackbird Bar and Grill ~
This popular Bar is a favourite destination to meet with friends especially for the socialites.  Located on the breathtaking Eagle Street Pier in the heart of the Valley it's a great beginning to a sophisticated night for classic drinks and social classy cocktails with a view.
~ Jade Buddha ~
An Asian fusion lounge bar and restaurant with waterfront views of Eagle Street Pier.  An array of music with sunday night salsa!
~ Pony Dining ~
An upscale bar and restaurant featuring modern Australian cuisine
---
∞ Recreation ∞
Places to Play | Sunshine Coast
When you're in the Sunshine Coast why not find some fun places to enjoy the hotspots that makes Queensland unique.  Away from the city with many scenic spots, the Sunshine Coast is much more relaxed than the Gold Coast and for good reason!  Whether its taking advantage of the surf and beaches or hiking one of the scenic mountains or coastal trails, you could even find yourself strawberry picking PYO style!
~ Noosa ~
~ Noosa Fairy Pools  ~
Where to find the Noosa Fairy Pools!  One of the more newer editions to the much loved Noosa Sunshine Coast is the Noosa Fairy Pools.  Found just past Dolphin Point and Granite Bay take a step away from the path past the bench and make your way towards the rockpool that has become quickly popular.  Make sure you check the tide and go at the right time as this will make the most of your experience as you can jump into the pool.
~ Hell's Gate Noosa  ~
One of my favourite coastal walks to date is Hell's Gate Noosa where you can fully enjoy the coastal views and stop by the many beaches.  The weather in Queensland especially towards the Sunshine Coast is always perfect for a reason to get outdoors all year round with many locals taking advantage of their neighbourhood.
.
~ Mt. Coolum  Sunshine Coast~
An easy to moderate hike up Mt Coolum leads to an expansive view over the Sunshine Coast.  You can easily make it to the top within 30-45 minutes and great for all fitness levels.  If I lived on the sunshine coast I would love to be able to do this active hike at Mt Coolum and even The Glass House Mountains.
~ Glass House Mountains Sunshine Coast~
One of the best things about growing up in Queensland are the natural scenic landscapes to explore, from beaches to mountain hikes to waterfalls and creeks.  Queensland really is your outdoor backyard with all the weekend activities you can grow up exploring with your friends!
~ Strawberry Fields ~
A fun day trip during the right season is Strawberry picking!  Freshly picked strawberries somehow do taste more fresh and so much more fun picking them yourself!  This is a great stop if you're coming or going towards the Sunshine Coast.
~ Mount Tamborine ~
Mount Tambourine is a beautiful scenic escape from the city with plenty of activities to drive to.  Whether it's driving to a scenic lookout to Rotary Lookout or the Glow Worm Caves in Mount Tamborine, there's a little something for everyone all-year round.  If you're looking for an adrenaline filled activity, the Tree Top challenge is a fun activity with the family also.
---
∞ Restaurants ∞
Places to Dine | Brisbane
Discover Brisbane and its culinary adventures through my travel diary of the places to eat, drink and socialise in Brisbane  Also keep up-to-date with events and things to do in Brisbane.
ASIAN CUISINE
~ Shabuhouse ~
Japanese| All you can eat | Hotpot | Sushi
~ WarWara ~
~ Maru Korean BBQ  ~
Korean BBQ| Late-night
~ Madtongsan II ~
Brisbane CBD  ♦  Sunnybank 
Korean BBQ| Late-night
~ Sushi Edo ~
Newmarket  ♦  Nundah   ♦  Brisbane CBD   ♦  Petrie Terrace ♦  Sunnybank
All plates $3.80! Great value and great quality sushi! They have recently expanded and renovated their location in Newmarket and it's in such a great new hub now!
~ King of Kings ~
One of the more popular Yum-Cha destinations especially for large gatherings and a favourite for birthdays this restaurant is often buzzing with lively atmosphere day or night.
~ Golden Palace Seafood Restaurant ~
Yum Cha| Late-night | Social
~ Superbowl Chinese Restaurant ~
This popular BYO is always a great gathering for good food, good drinks and good company.  A great social atmosphere to start the night or even just a night for a social dinner.
~ Enjoy Inn ~
~ The Manor Chinese Restaurant ~
For all those night owls craving Yum Cha at midnight there's actually a asian Yum Cha open til 2am where you can even enjoy a late-night drive to Eight Mile Plains.